Head teacher blog 13th November 2015
First of all, I would like to wish all our Hindu and Sikh families 'Happy Diwali'. We have a rich mix of children at Farfield and we happily celebrate and learn about a wide range of festivals – I feel that this is a strength of the school. We have also marked Remembrance with lessons about WW1, assemblies, visits to the Farsley Cenotaph and its own version of the Poppies:Wave. Today, we have marked Children in Need Day with a coin collection and a special visitor.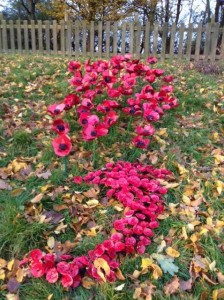 This week, 5B have had a particularly busy time having been to Leeds City Art Gallery for a materials workshop and to the Crawshaw Lego Lab to continue their work on cogs and gears. Year 1 learnt about and re-enacted Queen Elizabeth's coronation as part of their history curriculum and the PTA met to continue planning lots of exciting events such as the Quiz Night, Christmas Fair, Race Night and Camp-Over.