Sports Results
November 2021
Football
Farfield U9 0-2 Ingram Road U9
On Monday 8th November the Under 9s played their first ever competitive league match against Ingram Road Primary School.
The game started at a furious pace with both sides showing plenty of enthusiasm and commitment. The best chances fell to Farfield but a combination of the post and some superb goalkeeping meant that the game remained 0-0 at half time.
In the second half it appeared that the pace of the game caught up with the Farsley Farfield players and some excellent finishing sent Ingram Road into a 0-2 lead. Farfield tried their best to push for a goal but were unable to create any clear cut chances. The game ended 0-2 to Ingram Road.
I was incredibly impressed with all of the player's enthusiasm and teamwork. They should be proud of the effort that they put into the match and I am sure that we will achieve more positive results in the future.
Player of the match goes to George P who worked tirelessly in defence and attack.
April 2021
Football
Farfield U10 3-2 Weetwood U10
On Thursday 29th May the Under 10s played their second game of the season against the familiar opposition of Weetwood Primary School.
The opening exchanges consisted of wave after wave of Farfield attack but despite everyone's best efforts we were unable to score the goal our play deserved. To make matters worse Weetwood managed a swift break away and scored a goal to make it 0-1. However, this did not deter the Farfield players and two quick goals from Yahya ensured that we went into the half time break leading 2-1.
Inthe second half Farfield extended their lead through an excellent individual dribble and finish from L.J. At that point it looked as if the game was won but Weetwood scored their second goal to make the score 3-2 and there was a nervy end to the match. Fortunately, a combination of determined defending and excellent goalkeeping from Milo ensured that we held on for the win.
We are extremely proud of the attitude the team showed throughout the match, especially those children who were playing in their very first football match.
Player of the match goes to Veerpal who worked tirelessly to break up Weetwood attacks and played some lovely through balls to our attacking players.
March 2020
Football
Farfield U10 1-4 Newlaithes U10
On Tuesday 9th March the Under 10s took to the field in appalling conditions and showed great determination both in their football skills and to stay standing on the muddy field . The 1-4 result to Newlaithes doesn't reflect the effort the boys put into the game on a very cold evening. Player of the match has to go to AS who saved many potential goals with some amazing dives in the mud bath. The picture sums up his effort and we hope he made it home in the bin bags without getting too much mud on his mum's car!
January 2020
Cross Country City Finals at Temple Newsam
We were proud to take 6 teams to the Leeds Cross Country finals at Temple Newsam. The Y3 and Y4 races were 900m and the Y5 and Y6 races were 1500m. In huge races of 140 children, each of our runners did us proud. Whilst we await the final team results, there was no doubting that Erin in 4K was the fastest U9 girl runner in Leeds as she romped home first in her huge race. What a star!
Update: Erin (Y4), Lillie (Y5) and Todd (Y4) all qualified for the West Yorkshire finals. Well done!
Football
In terrible wet and muddy conditions, Farfield U11s won their first round of the Falkingham Cup.
Farfield U11 4 – 0 Shire Oak U11   (Alfie 2 and Pareen 2)
In the second round, we lost a tight game 2-0 versus St Theresa's. The team played well and fought to the end but we came across a very strong centre half, an excellent goalie and two skilful nippy forwards. A special mention goes to Lauren for her performance in this match: fast, tenacious and controlled – a super defensive display with good distribution too. Well done to the three Y5s that also played well in this match.
Farfield U11 0 – 2 St. Theresa's U11
Under 10s' Moran Cup – Tuesday 21st January 2020
Farfield U10 1 – 2 Woodlesford U10   (Sonny)
It was the Under 10s' first run out of the year after this game being cancelled 3 times due to the wet weather.  All players performed well and showed skill in passing and determined defending.  A fabulous long-range goal was scored by Sonny but unfortunately the final score was 2 – 1 to Woodlesford.
Farfield U9 2 – 5 Meanwood U9  (scorers TBC)
A good second half performance against a very strong Meanwood team.
December 2019
Saturday morning Cross Country
In brutal conditions, a few very brave souls (and Mr Beevers) gathered at Middleton Park for the latest round of cross country races. The U9 boys are smiling in their photo, but the girls suffered worse conditions in their race. Survival was a priority!  Well done to all of them for showing resilience and toughness.
November 2019
U11 football 7-a-side
Farfield 1 – 1 Greenhill  (Jacob E)
Waterloo 1 – 2 Farfield (Jacob E and Alfie)
Farfield 0 – 0 Beckfield Academy
Park Spring 0 – 0 Farfield
The team did well in short 6 minute games where the first goal was crucial.  Many thanks to Mrs Carter and Mrs Harding for braving the cold temperature and biting wind on the sidelines!
The squad was: Jacob E, Jacob P, George, Alfie, Lauren, Lewis, Sonny and Pareen.
Year 6 boy is Yorkshire U10 bowler of the year
Congratulations to Umayr in Y6 having been awarded the accolade of Yorkshire U10 Tykes' bowler of the year at a grand event in the Yorkshire CC Long Room. He received his award from Yorkshire cricketer Harry Brook.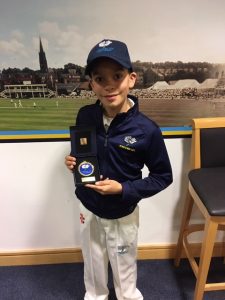 6-a-side Road to Wembley U11 Football
A mixed team from Year 6 played well at a Road to Wembley competition but weren't able to proceed to the next round. Heavily beaten by an extremely strong East Garforth team, they beat Kirkstall St Stephens and drew with Pudsey Primrose Hill.
East Garforth 5 : 0 Farfield
Farfield 4 : 0 Kirkstall St Stephen's  (Jacob P, Alfie 3)
Farfield 1 : 1 Pudsey Primrose Hill  (Jacob P)
Saturday morning Cross Country at Woodhouse Grove
20 brave souls from KS2 (plus families and Miss Ellis) gathered on Saturday morning at a wet and muddy Woodhouse Grove School for the latest cross country event. The course was interesting and fun, with slippery climbs and a wooded section for the U11 races. The races had huge numbers of competitors (typically, well over 100 competitors) and our children ran with resilience and tenacity. Zara tumbled near the start but got back up and competed well. Our top finisher was Lillie who came 7th in the U11 girls (even though she is just Y5) but we were proud of all the runners.
West Leeds Sportshall Athletics
Twenty children in Years 5 and 6 took part in a Sportshall Athletics competition at Leeds West Academy. The children competed in a wide range of running and 'field' events including javelin, standing vertical jumping, long jump, triple jump, speed bouncing and a form of shot putt. The children performed well and gave their all, coming in third overall.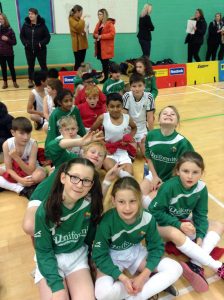 Girls' Football
On Thursday the girls football team played a series of matches on the all-weather pitch at Co-op Academy Priesthorpe. Our pitch was waterlogged, resulting in a venue change but the Priesthorpe facilities also have floodlights, meaning the round robin tournament could continue until 5pm.
The team consisted of a mixture of experienced players (Lauren, Daisy, Darcie, Zahra and Svana), players new this year (Lillie and Phoebe) and debutants (Gursimran, Erin and Isabel).
Our first game was a close affair against Holy Family, just ending the wrong way with a 3-2 defeat. The next game against Bramhope saw the freezing rain start but our girls performed brilliantly, winning 5-0. The final match against Woodlesford was also a tight contest but this time Farfield managed to come out on top with a 2-0 win.
All the girls played well and were a credit to the school and themselves. Hopefully, this year will see more victories however the massive positive from the tournament is that the next couple of years also look bright.
Mr Beevers
West Leeds Cross Country
We took eight teams and about 40 runners from Y3-6 to the West Leeds Cross Country qualification competition at Stanningley Rugby Club on a cold, damp and very muddy Wednesday afternoon. In tough, slippery conditions, our children ran very well, showing determination and resilience. Some notable successes included Lillie winning the Y5 girls' race by a distance and Erin and Isabel coming 2nd and 3rd respectively in the Y4 girls race (despite Erin falling near the start).
We are proud of all the children. Six of the eight teams have qualified for the city finals in February. Well done!
October 2019
Duathlon
12 children from Year 5 took part in a Duathlon at The Brownlee Centre on Friday 4th October.  The children had to complete a 750m run, followed by a 2.5km cycle and then a final 350m run.  Our children were split into two teams consisting of 3 boys and 3 girls in each.  They were competing against 37 other teams and they all performed magnificently.  We will not find out our final position until next week when all the times have been calculated but we are very proud of all of the children and the effort they put in to this event. We think we did well: 6 teams (36 participants) took part in our part of the day and Farfield children finished in 8 of the first 10 places. Stan was the fastest boy and Lillie was the fastest girl. Well done everyone! More photos here.
Update: Here are the astonishing final results from the duathlon!
Football
Farsley Farfield U11 6 – 1 Holy Family U11
A strong performance by our team with Jacob E getting a hat-trick and Lewis scoring with a super shot. Everyone played well, but it was particularly pleasing to see how well Max played at central defence in the second half: keeping a clean sheet and assisting two goals!
Pudsey St Joseph's U11 3 – 2 Farfield U11 
This was a really close match on a tight pitch. Farfield went two up early in the second half but St Joseph's came back strongly and snatched a last minute winner. Our team battled well and were unlucky to lose: two headers from a multitude of skilful chipped corners by Alfie going narrowly wide.
The first matches of the season for the girls' team all took place at St Patrick's Primary School in a round robin tournament that also included Immaculate Heart and Holy Rosary Primary schools. The team was mainly made up of year 6 girls who played last year but also included a couple of new additions from Year 5. The full team for the matches was Svana, Darcie, Lauren, Laura, Betsy, Daisy, Lillie, Phoebe and Zahra. All the games were close and we came away with one win (2:0), one draw (1:1) and one defeat (1:2). Goal scorers were Lauren x 2, Laura and Betsy. It is great to see the team playing well so early in the season. Well done girls.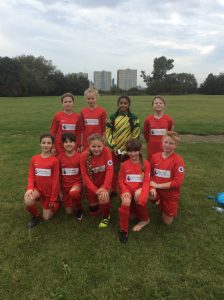 September 2019
Saturday morning Cross Country
16 children represented the school at the first cross country of the season in brilliant sunshine at Middleton Park.  In fast races with up to 130 participants, our children ran very well and we were proud of them all. Our highest-placed finish was Isabel who came 7th in the U9 girls' race.  Many thanks to parents for their support.
June 2019
Mini Tennis – city finals
Our year 5 team were competing with 9 other schools in the Mini Tennis City finals yesterday at the John Charles Centre for Sport.  The children performed brilliantly and managed to win 6 of their matches.  They did not come away with a medal this time but we are very proud of all of their efforts.  Well done Jack, Srihan, Laura and Lauren!
Tennis – 'Best of the West'
Farsley Farfield were represented at both Year 3-4 and Year 5 age group catagories, having won through to the Leeds West finals with victories at Priesthope Acadamy earlier in the year. The opposition in both age groups were very strong with some superb players taking part. The Year 3-4 group battled well and won several games but unfortunately didn't finish in the top two places and so won't progress further. However they can feel very proud of their performances and attitudes. Well done Tom, Jimi, Madison and Jameela.
The Year 5 team's matches were equally well fought and our players were amongst the best at the tournament, playing some amazing shots throughout. A well deserved second place means that they will compete against the top teams in Leeds at the John Charles Centre next week and Srihan, Jack, Laura and Lauren hope to turn their silver medals to gold. Good Luck!
May 2019
U9 Leeds City Finals Football
The U9 football team were knocked out in the first stage of the finals – narrowly loosing 1-0 to Roundhay Primary School. The boys were disappointed but should be proud of being one of the best sides in Leeds this season.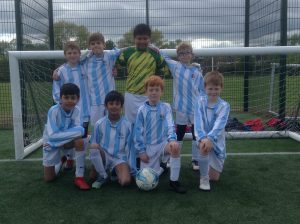 April 2019
Football
30.4.19
The girls' football team took part in a cluster tournament on Tuesday night. The girls played very well as a team and were unbeaten in their group. They made it through to the final and played against Horsforth Newlaithes. This was a very close game but unfortunately the game ended with Newlaithes winning 1-0. All the girls played well and should be very proud of themselves for getting to the final. Well done girls, you are a credit to our school and were a pleasure to take to the tournament.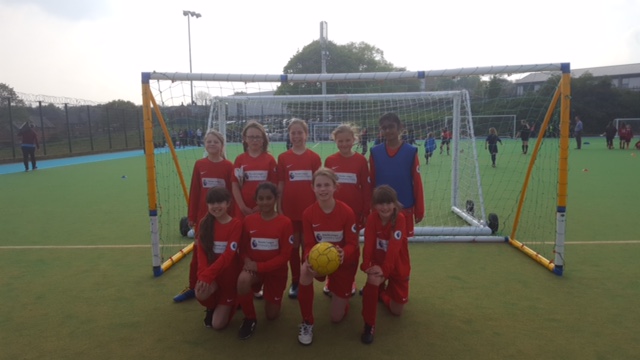 West Leeds SSP Football finals u11 25.4.19
Group Stage:
Farfield 0-2 Castleton
Farfield 3-0 Stanningley
Farfield 2-0 Greenside
Finished 2nd in group and progressed to the next stage.
Semi-Final: Farfield 2-3 Holy Family (aet)
After being 2-0 down, the boys valiantly fought back and were very unlucky not to be awarded a penalty when at 2-2. In extra time, golden goal (next goal wins) rules were applied and Holy Family nicked a winner.
3rd Place Playoff: Farfield 2-2 Castleton
Both teams awarded third place with no extra time taking place.
An excellent afternoon's football for all the boys who should be very proud of their achievements!
22.4.19
Boys U10  Iveson Primary 9 – 0 Farfield
March 2019
Football
U9 Cup
Westerton 5 – 3 Farfield (Jimi, Zac 2)
U10 Cup
Farfield U10 3 – 8 Holy Rosary U10  (Jacob E, Owen, Alfie)
We were over-run in the second half of a good match.
Tag rugby 21.3.19
Against strong opposition, the Year 6 tag rugby team performed admirably in the tournament held at West Leeds ARLFC. The record of Played 5, Won 1, Drawn 1, Lost 3 doesn't reflect the effort and individual skill shown. Two of the losses were by 1 try and the other was a 5-3 defeat to the pool winners – a team that scored 12 tries overall and looked dangerous on every play. The pick of the tries were from Dev who ran past most of the opposition to score in the corner and Evie who squeezed between the touch line and two defenders.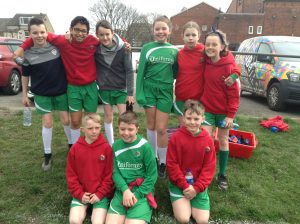 Tennis Competition 5.3.19
School games mini-tennis qualifier winners!
Year 3/4 team: Jameela, Madison, Tom, and Jimi.
Year 5 team: Laura, Lauren, Jack and Srihan.
The tournament was between 4 schools with only the winners progressing to the finals – an event to be played in the summer term
Cross Country
On a cold, wet Saturday morning, a group of Farfield children gathered at Middleton Wood for another round of muddy cross country races. The children (and parents!) showed grit and determination in poor conditions. Well done Nina, Darja, Alfie, Kobi, Sophie B, Isobel P, Lillie, Archie, Charlie, Arthur and Joshua. Proud of you all!
Earlier in the week, Erin Y3 and Lillie Y4 ran in the West Yorkshire cross country finals as 'wildcard' individual entrants. Both of the girls ran so well: Lillie coming in 17th and Erin coming in 7th. Congratulations!
February 2019
Football
U10 League
Farfield U10 o – 1 Horsforth Newlaithes U10
U10 Cup
Farfield U10 3 – 1 Horsforth Newlaithes U10  (Alfie 2, Joseph 1)
Falkingham U11 Cup Second Round
Farfield U11 1 – 1 Alwoodley U11 (Alwoodley win 3-1 on penalties)
Alfie Dawes scored Farfield's goal in the opening moments of the game. Excellent defensive work and outstanding saves from Bradley Bocock kept Farfield in the game. Sadly, despite two superb saves from Bradley, Alwoodley went through on penalties.
Leeds City Finals Cross Country
Our Y3 girls and boys teams had qualified for the city finals along with Y5 boys. Lillie (Y4) and Daisy (Y5) were invited as individual 'wild cards'.
Obviously the competition was very tough, but our children ran very well and were a credit to the school. None of our teams quite qualified for the West Yorkshire championships this year but Lillie (Y4) and Erin (Y3) have been qualified as individuals. Well done!  In her first year of competitive running, Erin finished the third fastest Y3 girl in Leeds!
December 2018
Dodgeball participation event at Crawshaw 4th Dec 2018
Message from Mr Garlick who took the team:
'We had a great time yesterday. The kids were fab. We played around 10 games – winning about 50%. Very proud!'
November 2018
U9 Boys Football Results – 30th Nov 2018
Holy Family 2 Farfield 2 (Sonny 2)
Meanwood 2 Farfield 6 (Sonny 5 and Peter 1)
U9 Boys Football Result – 27th Nov 2018
St Paul's 3 Farfield 6 (Sonny 4 and Peter 2)
Leeds cross country qualification event – 26th Nov 2018
On Monday afternoon, 32 pupils from Y3 to Y6 took part in a Leeds City qualification event at Cardinal Heenan. A big well done to all of the pupils who ran for the school with real grit and determination. Congratulations to the Y3 girls team, the Y3 boys team and the Y5 boys team who have qualified for the Leeds City Finals in February 2019. Congratulations also to Lillie and Daisy who have been given individual wildcard entries for the Y4 girl and Y5 girl races. Results and pictures below: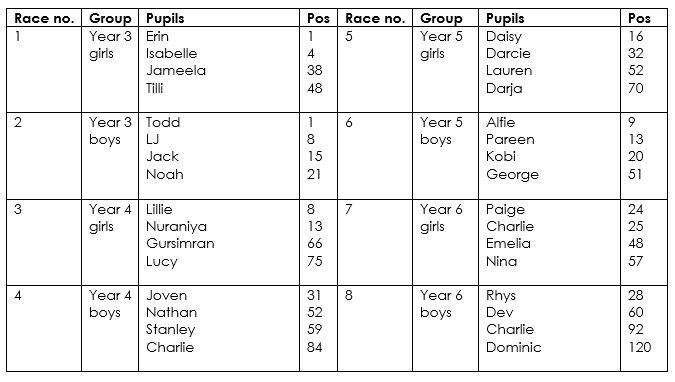 Saturday morning cross country at Otley Prince Henry's Grammar School
Children from Y3-6 gathered on the banks of the river Aire in Otley for the latest LSAA Saturday cross country event. We had big teams in the Y3 and Y4 races and smaller teams in the older races. The competition was very tough, with some races having well over 100 runners. It was a tricky course, with a narrow, steep, slippery and rocky slope near the finish. All the children ran well and showed great determination. Todd, LJ and Daisy did particularly well in terms of finishing near the front. Many thanks to Miss Jones for organising the children and very well done to everyone for their efforts.
Indoor Athletics
On Tuesday 13th November, Miss Jones and I took 19 children from Y5 and Y6 to an Indoor Athletics Competition at Coop Academy Priesthorpe. We competed in a variety of track and field events against 4 other primary schools. In the end we came 3rd and did not qualify for the finals of this competition but the children represented the school brilliantly.  A big well done to the children and many thanks to Miss Jones for her time at this after school event. Mr Cooke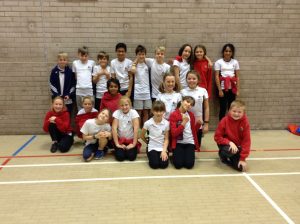 October 2018
Girls Football 26.10.18
Newlaithes 2 Farfield 1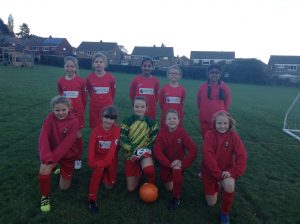 Match report: In a closely fought game, Farfield just lost out despite a great performance. The girls have been training very hard recently, practising positional play and tactics, and this showed as they worked superbly as a team. We started with Kadi in goal, Aman, Darcie and Amelia in defence, Saroop, Daisy and Lauren in midfield and Izzabelle as the striker. Kadi saved several goal bound shots and, although we went a goal down, kept us in the game. Izzabelle was a handful up front and scored near the end of the first half to make it level at the break after Laura and Laura had taken the field. Positions were changed at the start of the second half but one player who had to remain as she started was Darcie. As a defender, she was magnificent. Every ball that came towards her, she attacked and challenged for. At the start of the second half, Farfield went behind as a shot squirmed in with the keeper blinded by the low sun. Undeterred, we pressed forward for the equaliser. The whole team worked tremendously hard and, on another day, would have come away with a better result. However, luck was not on our side and shots were blocked, deflected and saved. Newlaithes are a consistently good side and the score line shows how competitive our team of girls has become. Well done!
U9 football league results (17.10.18):
Carr Manor Primary 0 Farfield 2 (Zak, Sonny)
Newlaithes 3 Farfield 2 (Zak, Peter)
Meanwood 0 Farfield 0
Carr Manor Community School 3 Farfield 6 (Sonny 3, Zak 2, Peter)
Cross Country at Cardinal Heenan (Saturday 13th October 2018):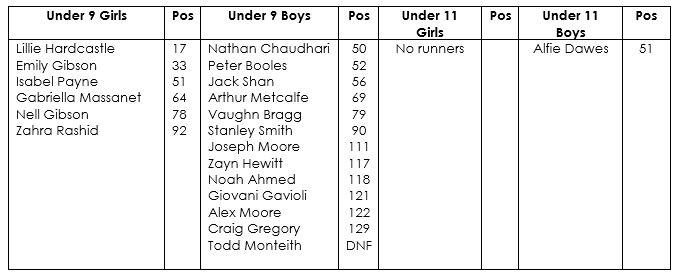 U10 football league results:
Horsforth Newlaithes 5 Farfield 2 (Alfie, Jacob E)
Weetwood 2 Farfield 2 (Jacob E, Alfie)
U9 football league result (5.10.18):
Horsforth Newlaithes 9 Farfield 5 (Zak 2, Nathan, Sonny, Tom)
September 2018
Cross Country at Farnley Academy
We were delighted to take a team of nearly 30 children to the first cross country competition of the year. Open to all West Leeds primary schools, about a dozen schools gathered at Farnley Academy after school on Thursday. Our children all ran very well and our Y5 boys and Y5 girls both won their team competitions. We didn't have any outstanding runners – our best finish was 5th I think – but we had great strength in depth which reflects very well on the school. Well done to everyone involved – we were proud of you all!   Mr Harris, Miss Jones, Mrs Harding and Mrs Elam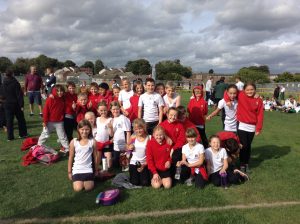 July 2018
FS & KS1 Sports Day
Wow, what a busy day we had on Wednesday for our Sports Day! It was wonderful to see so many family members out to support their children and from the look of things everyone had a great time, adults and children alike! It was lovely having some potential future 'Farfielders' in the toddler races as well. After our formal activities and races in the morning, both Foundation and KS1 had an opportunity to be active with our sports equipment in a much more informal manner in the afternoon. I'm surprised they still had so much energy left! I certainly had a fantastic morning and I'd like to thank all of the staff and families for making the event so successful.
Mr Little
June 2018
Mini-Olympics
On Wednesday afternoon, 30 children from years 2-6 were selected to represent Farsley Farfield in the annual Pudsey Mini-Olympics at the John Charles Centre for Sport.
Children competed in team and individual events to earn points.
Our KS1 pupils came 2nd place in their team events and Farfield  were awarded bronze medals for coming 3rd place overall in the whole competition.
As well as showing off their athletic ability, they all displayed fantastic sportsmanship and growth mindset. Well done Team Farfield!
Girls' Football
The final girls' football competition of the year saw Farsley Farfield enter two teams into the St Bart's Cup. Around sixty teams from all over Leeds took part in the competition, held on the artificial pitches at Goals in Kirkstall.
Team "A" consisted of most of the girls who had played regularly over the last year. They were drawn in a tough group but performed superbly, winning 5 of their 6 games, scoring 15 goals and conceding only 2. The goals were scored by Eva (6), Amelia (4), Elsie (3) and Eden (2) but the whole team which also included Katie, Ruqayyah, Evie and Ria deserve a mention for their effort, skill and team work. Highlights were a 7-0 win against Bramham and revenge for a very heavy regular league defeat by beating Holy Trinity 1-0. When it came to the final table, there were three teams on the same points but with only two going through to the next round goal difference was the decider. Unfortunately, all the hard work was not rewarded and the girls finished up as third in their group.
Team "B" included the girls Daisy, Laura, Laura, Aman,  Izzabelle and Saroop, who will be the backbone of next year's team, plus the experienced Lily-Mae as goalkeeper. Frustration is probably the word that sums up the day. The girls were superb in possession. They passed the ball accurately, found space and played as a team but matches are won by scoring goals. Try as they might, and they had plenty of shots, they couldn't hit the net enough. Laura did manage to equalise during the penultimate game but the girls fell to a late winner. Izzabelle also scored possibly the goal of the tournament in the last game but it was just a consolation. On the bright side, if the girls continue to play together and progress, then Farfield should have a very good team in the coming year.
Although the day ended with some disappointment, Mr Beevers and Mrs Harding are so proud of the whole group for the effort and determination they have shown, not just today but over the whole year. Well done girls, you are a credit to yourself and the school.
Mrs Harding and Mr Beevers
Football
Yeadon Rufford Park 0 – 7 Farfield B U9   (Lewis 3, Peter, George, OG, AN Other)
Girls' Rugby tournament
Results TBC. A good day, but we didn't qualify for the next round.
May 2018
Triathlon taster days at John Smeaton Leisure Centre and John Charles Centre for Sport: https://www.farsleyfarfield.org.uk/brownlee-triathlon-monday-21st-may-2018/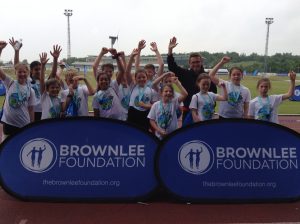 March 2018
Girls' football tournament at Priesthorpe
The girls football team played a tournament against numerous teams from the Pudsey area at the Co-op Academy, Priesthorpe on Thursday 22nd March. All the girls played exceptionally well and had a lot of fun too. The girls won the tournament playing four games in all. They won three games and drew just  one without conceding a goal. There were some great goals from the girls and a magnificent hat-trick from Elsie.
Well done girls. Mr Beevers, Mrs Harding and the whole school are very proud of your hard word and dedication.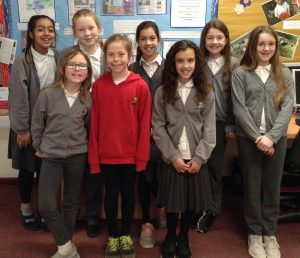 Leeds U11 football league
Pudsey St Joseph's  2 – 4 Farfield (Karndip 3, OG)
Leeds City 6-a-side Football Finals U9
Following on from coming runners up in the city finals for Cross Country, our Y4s came runners up in the football too!  Remember, there are over 250 primary schools in Leeds, so this is a great achievement. It was six a side and we had a squad of 8. The event was held at Leeds Utd's training base at Thorp Arch and we saw some 'first teamers' there. The twelve best teams in Leeds qualified for the event from area competitions.
Well done to Jacob E, Jacob P, Owen, Corday, Alfie, Lauren, George and Sonny.  They played really well and the final could have gone either way with Alfie hitting the bar and their first goal taking a decisive deflection. I was very proud of them all!  They really tried hard and played some very good football.
Group stage
Immaculate Heart 0 – 1 Farfield U9  (Corday)
East Garforth 3 – 0 Farfield U9
Farfield U9 1 – 1 Rothwell St Mary's  (Alfie)
Farfield U9 2 – 0  Tranmere Park  (Sonny and Alfie)
Semi Final
Farfield U9  3 – 2 Southroyd  (Corday, Alfie 2)
Final
Woodlesford 2 – 0 Farfield U9
Mr Harris
West Yorkshire Cross-Country Finals 14.3.18
On Wednesday I took 5 boys from Year 4 to the West-Yorkshire Cross-Country Finals, that they'd qualified for through the Leeds finals last month. In what was a huge event, Kobi, Pareen, Alfie, Jacob E and George H, lined up among 142 other Year 4 boys for their big race.
I'm incredibly proud to say that when even competing against the best runners from all across West Yorkshire, our team came joint 7th of the 25 schools represented in the race! A massive congratulations to all the boys for what is a really brilliant achievement. The effort they put in is abundantly clear in one of the below pictures!
Mr Little
Football
Holy Family U11  5 – 2 Farsley Farfield U11  (Harmaan, Karndip)
Holy Family U9  1 – 16 Farsley Farfield U9  (Alfie 4, Sonny 3, Jacob P 3, Jacob E 2, Corday, Owen, Zak, OG)
February 2018
On Thursday 22nd February, the girls played away to West End Primary. It was a very good game played by all with a great goal scored by Elsie. The game ended 1-1 and the girls should be incredibly proud of themselves.
On Monday 26th February, the girls played a great game in the bitter cold at home against Newlaithes Primary. The game ended Farfield 0-2 Newlaithes but the girls put an incredible amount of effort in and should be proud of themselves. Well done girls: it was a great game.
Mrs Harding and Mr Beevers
Leeds Cross-Country Finals at Temple Newsam 21.2.18
On Wednesday Mrs Elam and I had the pleasure of taking 25 cross-country runners to Temple Newsam for the Leeds Schools Finals. We had 5 of our 6 teams qualify for the finals from their performances in November's West Leeds competition so even to have 5 teams at the Leeds finals was a great success. We were blessed with sunshine for the afternoon, and despite the obligatory mud for a cross-country run, it was a great afternoon that I think all the children, and the helpful parent volunteers enjoyed.
With over 700 pupils in total, and no race with fewer than 110 children on the start line, competition was always going to be fierce, considering the best runners in Leeds were in attendance. I'm proud of each and every child's performance though, and we showed good team depth across each race, due to every child's determined running.
Not only was it great to have earned our places here, but special congratulations must go to the Year 4 boys' team, who placed 2nd in their category and thus have qualified for the West Yorkshire finals on Thursday 8th March!
Well done again to all, and I hope that we can all wish the boys good luck in their final in a couple of weeks.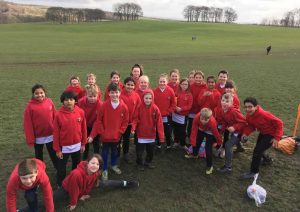 Mr Little
U9 West Leeds Football Tournament
Our mixed U9 football team did really well at this tournament, winning their first six leagues matches and qualifying for the semi final as league winners. The other teams in our league were Armley, Holy Family and Southroyd (we played each team twice).  In the semi-final we played Lower Wortley and drew 0-0 (their goalie pulled off lots of good saves). We won a penalty shoot-out to qualify for the final where we met Southroyd again (having already beaten them twice). This time though, they scored a good quick opening goal followed by an unlucky (for us) second and although we laid siege to their goal we could only pull one back before we ran out of time  Well done Southroyd!
As runners-up for West Leeds the team nevertheless progress to the city finals to be held at Leeds Utd's training ground next month. Well done to all the squad for excellent effort and performances: George, Jacob P, Lauren, Zach (Y3), Alfie, Sonny (Y3), Owen, Corday and Jacob E.
Results:
Farfield 2 – 1 Southroyd  (Sonny, Alfie)
Farfield 3 – 0 Armley  (Alfie 2, George)
Farfield 3 – 2 Holy Family  (Alfie 2, Jacob E)
Southroyd 1 – 2 Farfield (Alfie, Jacob E)
Armley 0 – 2 Farfield (George, Alfie)
Holy Family 1 – 2  Farfield (Owen 2)
Semi-final
Farfield 0 – 0 Lower Wortley  (Farfield won a penalty shoot-out)
Final
Farfield 1 – 2 Southroyd  (Corday?)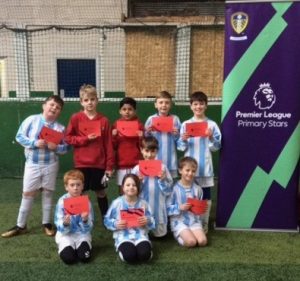 Mr Harris
Mini-Tennis Tournament 7.2.18
Well done to the eight Years 4 & 5 children that took part in the mini-tennis tournament at Priesthorpe yesterday after school. With four schools in attendance, Bolton Royd, Calverly CofE and Holy Family, alongside ourselves, the children got a chance to play three matches each, in a round-robin format, with every point scored counting in the overall team competition, regardless of winning or losing the match.
In the end, after some fantastic results, including some exemplary tennis and beautiful shots, we narrowly missed out on a spot in the Leeds Finals. In the Year 5 category, we came 2nd to Bolton Royd by just 5 points, and it was even closer in the Year 4 category, where we came 2nd to Bolton Royd again, but with just 1 point in it!
Well done again to all of the children involved!
Mr Little
Football
Farfield U9s 14 – 2 Weetwood U9s  (Alfie 3, Jacob P 2, Jacob E 2, Joseph 2, Corday 2, Sonny 2, George 1)
Netball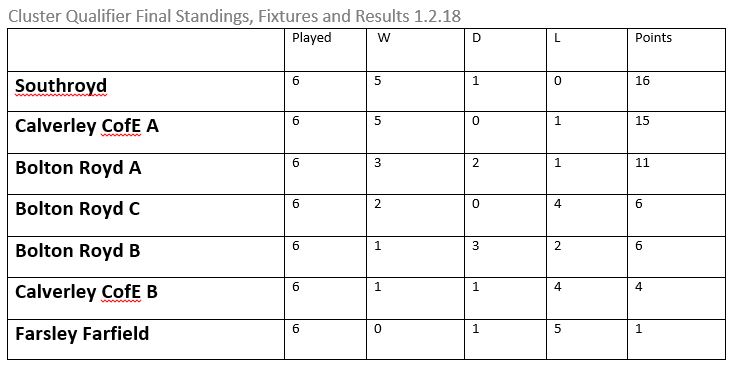 January 2018
Netball Friendly Tournament at Priesthorpe 18.1.18

Cross-Country at Corpus Christi College 13.1.18 Results
On Saturday we took part in another Leeds Schools Cross-Country fixture and despite a distinct chill in the air, the children and parents involved still enjoyed a good morning! As ever, it was a very busy event, with over 300 students and around 25 primary schools represented in total.
The full results can be checked at www.lsaa.org.uk but our highlights include…
A great individual performance from Lillie in 3M, getting our highest position of the morning at 16th.
Another huge team in the U9 Boys race, who placed 10th of 19 schools.
A strong team performance from the U11 Girls, who, despite all being from YR5 in a mixed YR5 & 6 race, came home 5th of the 19 schools represented in the race.
Well done again to all of those children who took part! Our next LSAA cross-country fixture is on Wednesday 14th March, in Middleton Park, starting at 4pm. I'd love to have more YR6s taking part, and I'm hoping that by being on a weekday evening we'll have an even larger group of children representing the school.
Mr Little
November 2017
Cross-Country at Cardinal Heenan 27.11.17 Results
Mr Cooke and I brought 6 teams of Farfield cross-country runners to a huge event at Cardinal Heenan Catholic High School last Monday, with at least 20 schools, and over 800 children taking part. The races were split into year groups for YR4, 5 & 6, with separate races for both the boys and the girls.
Overall we had a fantastic afternoon and I'm so proud of how well everyone ran, on what was an incredibly busy day, with well over 100 competitors in even the smallest races, and quite a hilly and slippery course!
In terms of results, we also did brilliantly, with 5 of our 6 teams qualifying for the Leeds Schools Cross-Country Finals on Wednesday 21st February at Temple Newsam. The top 8 teams from each race qualified for the finals and our results were as follows…
YR4 Boys – 1st
YR4 Girls – 5th
YR5 Boys – 5th
YR5 Girls – 4th
YR6 Girls – 6th
Unfortunately, our YR6 Boys team didn't qualify for the finals, but in the biggest race of the afternoon, with approaching 200 competitors, they certainly gave a valiant effort!
Special mention must also go to Pareen of 4K who placed 9th in his race, enabling him to qualify for the finals in his own right as well.
Well done again to all runners, our strength in depth shows that we're certainly a cross-country school to be reckoned with! With another couple of months of practising, I'm hopeful that we can put in a great performance at the Leeds finals and qualify for the West Yorkshire finals beyond that.
Mr Little
U11 Football Tournament at Coop Academy Priesthorpe 30.11.17
Farfield 0 Springbank 0
Farfield 0 Bolton Royd 0
Farfield 0 Calverley Parkside A 0
Farfield 2 Calverley Parkside B 0 (Sonny 2)
Farfield 1 Waterloo 0 (Sonny)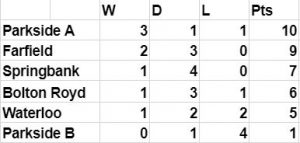 Leeds Schools Athletic Association Cross Country Saturday league
We had lots of competitors, particularly in the U9 boys' race in which Alfie was our top finisher in a very creditable 12th place. The U9 boys team came sixth out of 20 schools (having been ninth at the last event).  Results are here: http://www.lsaa.org.uk/R2PHGS2017.htm
These were big races, with some having well over 100 runners. The starts were exciting!

The Leeds United Foundation EFL Kids Cup – Road to Wembley West Local Area Qualifying Tournament U11 
Round Robin
Farfield 3 – 0 Cobden (Karndip 2, Colm)
Farfield 0 – 0 Raynville
Farfield 1 – 0 Ryecroft (Karndip)
Farfield 1 – 0 Greenside ( Oliver)
Farfield 1 – 2 Lower Wortley (Karndip)
Farfield 5 – Armley 0 (George 2, Oliver 2, Colm)
Farfield 0 – 0 Holy Family
Farfield 2 – 0 Southroyd (Karndip 2)
Semi-Final
Farfield 1 – 3 Holy Family (Karndip)
The boys played some good football and we were close but did not progress to the next stage of the competition.
Football League Results
Farfield U9   5 – 6   Calverley Parkside U9   (Alfie, Joseph, Owen…)
Farfield U11 3 – 2 Pudsey St. Josephs  (Karndip 2 and Tom W 1)
Sportshall Athletics
This competition for YR6 was a great event and I think all the children had a brilliant time. We were phenomenal in the races, coming 1st or 2nd in 10 of the 12 races. However, we had mixed success in our field events with some stand-out individual performances but just not quite enough strength in depth to earn us the top spot required to progress to the next round. Ultimately we came a close 2nd place of the 5 teams present, with Bramley St Peter's pipping us to 1st place.
A huge congratulations to all of the children involved and I'm incredibly proud of the strong teamwork and athleticism we showed throughout the event. Thanks also to Miss Dobson for accompanying us, and to all the parents for supporting their children to take part."
Nick Little
October 2017
Cross Country
21 children represented the school at a cross country event at Middleton Park on the morning of Saturday 4th November. There were 4 primary school races and we needed 4 competitors to make a team. This was the first time that we had entered this event for many years, and the competition was fierce. We were proud of our children's efforts, especially as our runners were predominantly Y3 and Y5, running against older peers.
We came 9th of 12 teams in U9 boys (though 20 schools took part; 8 must not have had full teams), 13th of 15 teams in U11 boys (of 23 schools) and 7th of 10 teams in the U11 girls (from 22 schools).
There were about 100 children in each race and it was quite an experience. We are looking forward to more races later in the year. Many thanks to Mr Little for organising the team, attending the morning and leading running across the school.
Football
Farfield U9   3 – 0  Meanwood U9    (Joseph, Owen, OG)
Farfield U9   3  –  4  Horsforth Westend   (Alfie,  TBC)
Farfield U11   6 – 0  Bolton Royd U11
Springbank U11   2  –  0  Farfield U11
Calverley Cof E  2 – 0  Farfield U11
Farfield Girls 2 – 1 Alwoodley Girls (Laura 2)
A message from manager Mrs Harding: "To say that the girls had never played together before, they did incredibly well. It was a very close game but the girls never gave up, which clearly shows in the score. Thank you to Mr Beevers for being a great ref and to all the supporters who came to cheers the girls on.  Well done girls!"
September 2017
Football
Farfield U11  0 – 4  Holy Name U11
Farfield U9  6 – 2  Holy Name U11  (Joe Th 2, Owen, Alfie 2, Jacob E)
Pre-season friendly at Priesthorpe
Farfield U11 A 5 – 0 Bolton Royd A (Harmaan 3, Tom 2)
Farfield U11 B 2 – 0 Bolton Royd B (Colm, Harris)
Farfield U11 A 4 – 0 Bolton Royd b (Oliver 1, Kieron 1, Harmaan 2)
Farfield U11 B 6 – 0 Bolton Royd A (Sonny 2, Colm 1, Ben 1, Karndip 1)
Farfield U11 A 0 – 4 Farfield B (Harris 1, Colm 1, Gurkeiret 1, Ben 1)
Cross Country competition at Farnley Academy
Year 4 boys – 2nd overall
Year 4 girls – 3rd overall
Year 5 boys – 1st overall
Year 5 girls – 1st overall
Year 6 boys – 2nd overall
Year 6 girls – 3rd overall
June 2017
Girls' football
Westbrook Lane 3 – 1 Farsley Farfield (Chloe)
Farsley Farfield 0 – 2 Holy Rosary St Anne's
Strawberry Fields 0 – 4 Farsley Farfield  (Chloe & Eva)
Farsley Farfield 3 – 0 St Urban's ( Chloe & Eva)
May 2017
Football
West Leeds U11 7 a s ide finals
Group 2
Greenside U11 0 – 0 Farsley Farfield U11
Stanningley U11 0 – 2 Farsley Farfield U11  (Bailey, Keanush)
St Bart's U11 0 – 1 Farsley Farfield U11 (Ben)
Farfield qualified as group winners
West Leeds Semi final
Farsley Farfield U11 0 – 0 Lower Wortley U11 after extra time
Farfield lost on penalties 3 -2
April  2017
Football
Horsforth Newlaithes U11 2 – 2 Farsley Farfield U11 (Ben, Keanush)
West End U11 2 – 5 Farsley Farfield U11  (Keanush, Ben 2, Billy 2)
West End U10 2 – 6 Farsley Farfield U10
Horsforth St Mary's U11  3 – 1  Farsley Farfield U11  (Ben)
March  2017
Football 'Road to Wembley' Competition U9
Farfield 1-1 Southroyd (Rhys)
Farfield 0-0 Lower Wortley
Farfield 1-2 Holy Family (Charlie)
Farfield 2-0 Raynville (Rhys, Bradley)
Farfield 1-1 Greenside (Rhys)
Farfield 1-0 Whingate (Charlie)
This mixed team played well and enjoyed themselves but they didn't quite qualify for the city finals.
Calverley Parkside 0 – 0  Farfield U11
Farfield U11 7 – 0 Bolton Royd
Farfield U11  1 – 0 Farsley Springbank
Farfield U11 qualify as local champions and go on to the area finals.
Leeds City Cross Country finals: Ty came 14th out of 100 in the U11 boys' race. 22 Farfield children took part in a range of races. They showed grit and determination in poor conditions – well done!
West Yorkshire Cross Country finals: Ty came 30th out of the whole of West Yorkshire. Well done!
Football
U9 Holy Family 3 Farsley Farfield 1 (Rhys)
Farfield U9 3-2 Westerton   (Alfie 2, Bradley)
U10 Holy Family 4 Farsley Farfield 0
Calverley Parkside 0 – 0  Farfield U11
Farfield U11 2 – 0 Bolton Royd  (Ben, Keanush)
Farfield U11  3 – 0 Farsley Springbank  (Ben, Joel, Bailey)
Climbing
Alice was second in the girls competition in a competition with other schools at The Depot.
February  2017
A group of Year 6 children took part in a cheerleading competition at Ruth Gorse Academy. The event, organised by White Rose Cheer, involved the children performing a routine that they had learned at school as part of their Tuesday PE module. The team, consisting of 21 children, had only 10 minutes to rehearse their routine before competing against 8 other schools.
After the competition, the children took part in a carousel of activities led by the coaches from White Rose Cheer whilst the judges compiled their results. The final results were given and we were delighted to come third in the competition and receive 21 shiny bronze medals. A big well done to all the children.
January 2017
Year 1 Sporthall Sports winners!
U11 City 6-a-side football finals at Leeds Utd Thorp Arch training ground
Horsforth Newlaithes 0-4 Farfield (Ben x 3, Keanush)
Westerton 2-1 Farfield (Ben)
Boston St Mary's  1-0 Farfield
Immaculate Heart 4 – 1 Farfield (Keanush)
The ten best U11 6-a-side teams met in finals at Thorp Arch. We started in blistering fashion, thrashing one of the pre-tournament favourites (and eventual semi-finalists) Newlaithes 4-0. In the next two games, a few 'soft' goals left us chasing the games and the post and bar denied us against Boston. In the final game, I think the boys' heads went down knowing we couldn't proceed to the semis. Nevertheless, we did well to qualify for the finals and played some great football. Well done boys!
November 2016
Football
Castleton 0 – 2 Farsley Farfield U11 (Ben x 2)
Lower Wortley 0 – 0 Farsley Farfield U11
White Cote 0 – 1 Farsley Farfield U11 (Ben)
Holy Family 1 – 2 Farsley Farfield U11 (Ben x 2)
Farsley Farfield U11 0 – 2 Southroyd
Farsley Farfield U11 0 – 0 Raynville
Farsley Farfield U11 0 – 1 Greenside
Farsley Farfield U11 2 – 0 Valley View (Keanush, Bailey)
Farsley Farfield U11 1 – 0 Whingate (Ty)
Farsley Farfield U11 have qualififed as runners up for the city finals.
Horsforth Newlaithes U10  3 – 1  Farfield U10
Horsforth Newlaithes U9  3 – 4  Farfield U9  (Lucas x 2, Dev, Rhys pen)
Farfield U11 2 – 4  Horsforth St. Mary's U11  (Ben, Joel?)
October 2016
Cross country at Farnley Academy inc a Y6 Boys Race win for Ty Bowker and a team win for Y6 girls.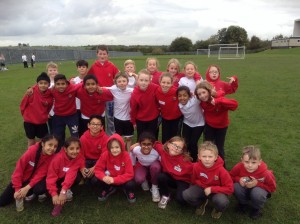 Football
Farfield U11  0 – 2 Springbank
Farfield U11  1 – 0 Parkside (Keanush)
Farfield U11  4 – 0 Bolton Royd (Joel 2, Ben, Keanush)
Farfield U11  2 – 0 Calverley CofE (Ben and AN Other)
Farfield U10  1 – 1  Holy Family  (Colm)
Farfield U9   2 – 2  Holy Family  (Lucas, Dev)
September  2016
Football
Farfield U11 1 (Bailey)  Springbank 0
Calverley CofE 0  Farfield U11 3  (Bailey, Joel, Ben)