Curriculum
At Farfield, we seek to deliver an engaging, rich and fulfilling curriculum that children can enjoy and prepares them for their next stage of education and for life. To bring the curriculum to life, we go on LOTS of school trips and we have some exceptional curriculum provision in areas such as PE, horticulture and cooking. Have a look at our brilliant class blogs for a flavour of our curriculum in action (accessed from top bar of website)!
Click below for year group long term outline plans:
At Farsley Farfield, we follow the 2013 revised National Curriculum.  If you would like a paper copy of any of the documents on this page, please contact the school.
Here is a guide for parents:
The full primary national curriculum is here:  https://www.gov.uk/government/publications/national-curriculum-in-england-primary-curriculum
Junior PE is organised with a core lesson of 'Speed, Agility and Quickness' followed by a half term module of the children's choice. Click here to see the junior PE options.
We have adopted a new model scheme of work for Personal, Social and Health Education. The long term plan is here (click to expand, and see year group plans for amended timings):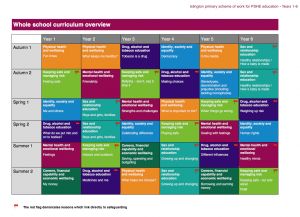 This long term plan for PSHE is in the process of being implemented and is subject to some variation. The policy and programme of study for Sex and Relationships Education can be accessed from these links:
For more detail as regards the PSHE scheme of work, click here.
Please find below a copy of the parents' guide to the 'Maths must do' for children in year 1 – 6
Please find below a copy of the Maths learning journey for Foundation Stage.
Please find below a copy of the Maths learning journey for Years 1-3.
Please find below a copy of the Maths learning journey for Years 4-6