Headteacher blog Friday 3rd December
It has been a better week as we may have turned the curve as regards COVID infections. Until today, attendance had been over 90% this week: very low by historical standards but much improved compared to last week. As I write, we have 'only' had two positive COVID tests this week compared to nineteen over the previous two weeks and both of these are clearly linked to wider infections in the family and neither person had been in school for a while.  Unfortunately, lots of children (and staff) are still isolating. We do also seem to have a huge amount of sickness and vomitting which is bizarre given the amount of handwashing and sanitising we do nowadays. Unlike a spread of something like norovirus that might be confined to a single class and addressed with washing everything down with Milton, the sickness is evident in at least seven classes. Attendance today is barely over 85% – as bad as I can ever recall. I stand by the decision not to have big indoor events this Christmas as the last thing anyone would want is a 'super-spreader' event just before the holidays.
The start of the week was fun, with a covering of snow to excite the children. There were some enormous snowmen despite the relatively small amount of snow. Snowballing in the juniors was confined to the top field and the children were well-behaved and restrained – I didn't hear of any staff getting 'accidentally' hit! We also had some comedy moments in Farm Club after school catching all the chickens to move them inside for some winter quarantining away from wild birds in response to avian flu outbreaks across the country. The birds now have the greenhouse as their new home for a few months.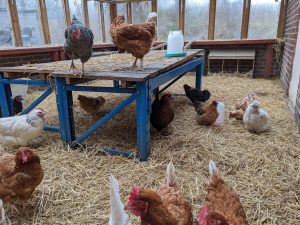 Covid-secure outdoor events have been successful despite the winter weather. The PTA have run a couple of mini Christmas Fairs outside this week that have been very busy, and it was wonderful to be part of the Farsley Lights Parade on Wednesday evening. Some children in Y6 also ran a very successful Bake Sale that raised over £100. Originally, the proceeds were due to go to Greenpeace but this was changed to an ocean conservation charity at the last minute as one of the children heard that Greenpeace was 'dodgy'. I explored this a bit with them and talked about the pros and cons of direct action (but didn't try to get them to change their minds) – even charitable giving can be controversial!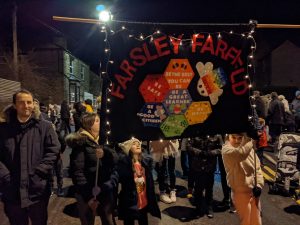 Things are still not fully 'normal'. Our milk supplies have not come for four days, with the company saying that there is a 'national raw milk shortage'. I couldn't get a supply Teaching Assistant at all this morning to cover a sickness absence, and our supplier of tutoring is warning that they may not be able to fulfill our request for next term due to difficulties retaining and recruiting tutors. Real terms wage cuts for most staff in education over the past ten years are a significant challenge, especially with inflation high and accelerated wage growth now outside the public sector. We have lost a couple of great colleagues this term to better-paid jobs elsewhere. We have managed to appoint some new super staff, but from tiny fields of candidates and we have had to be creative in our recruitment. We also have more agency colleagues than ever before: both covering long-term sickness absence and to meet other unexpected needs. We have a big budget review on Monday and it could be interesting.
On the subject of staff absence, colleagues stuck at home have been keen to help whilst away. An isolating TA has been doing mock SATs marking and Question Level Analysis from home and another poorly TA has been preparing for a big SEN review next week. I also saw something I had never seen before from one of the Y6 teachers who is off sick today. A supply teacher is in, but the children were doing a long piece of writing on their Chromebooks using Google Docs within Google Classroom. The poorly teacher was actually online: marking, prompting and commenting on the children's individual pieces of writing from home as the work was being drafted! I am not suggesting that this is an expectation every time a teacher is poorly, but this teacher was not wholly incapacitated and is very conscientious, and the planned work for the morning happened to be on the Chromebooks. The technology and infrastructure we have now allow this sort of interaction – we had delighted children and a very impressed headteacher. The supply teacher was flabbergasted.
Have a great weekend!