Headteacher blog 27th November
It was wonderful to see so many children and families at Farsley Lights on Wednesday evening. It is good that this community event has managed to be retained despite the cuts to local government. I believe that local businesses have stepped in to fund the event and long may it continue!
Headlines from the Chancellor's Autumn statement might suggest that schools have been spared austerity but that is not true as unfunded changes to pensions, national insurance contributions and 'living wage' mean that our school will need to save a six figure sum each year compared to current levels of spending. You may also have read that the government is introducing a 'simple' national funding formula that is 'fairer'.  Much of this work has already been implemented and we also lose out as a result of the new arrangements taking no account of the size, age or condition of a school's building or buildings, and no account of the size or nature of grounds. To describe a system as 'simple' isn't always a compliment.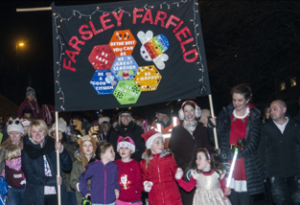 On Thursday, Reception held two events to support the teaching and learning of maths and I am pleased that half the families were able to attend. Those families that couldn't attend should receive some of the resources very soon.  Next week is going to be busy with lots of trips out, especially for Year 1 and, for the first time, our children in Years 1 and 2 will be receiving flu immunisation in school – thankfully, no needles involved!  Tonight we are hosting our biggest ever PTA Quiz night: will the winning team be from staff, governors or parents this year?  Many thanks to all the PTA volunteers that make these sorts of events happen and raise so much money for the school. Some of the things that make our school special, e.g. free or cheap trips by minibus and the school farm, rely on support from the PTA and are likely to become more reliant in the future.