Head teacher's blog 22nd February 2018
It is cold but we have had a very bright week at Farfield.
On the school farm we have started sowing seeds for the new gardening year! For me this is an important moment: not withstanding a cold snap for the next few days, the sight of seed trays and plant pots is a clear signal that we are emerging from winter. Just like children need to be nurtured in a family home and good quality primary school, seeds need warmth and protection from a greenhouse or propagator. As well as sowing seeds, there are still winter crops to harvest, and didn't these three Y5 girls enjoy harvesting and preparing kale and leeks this week!
This has been a big week for sports. Our U9 football team entered the West Leeds 6-a-side competition and won their league with six wins. They won their semi final on penalties after a 0-0 draw and then had a very unlucky final in which we quickly went two down, got one back but ran out of time (against a team that we had beaten twice already). The eight boys and one girl in the squad all played very well and should be proud of themselves. They go on to the Leeds Finals next month as area runners-up.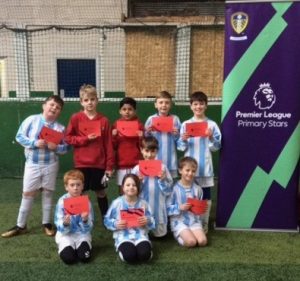 An even bigger event was the Leeds Cross Country Finals for which 5 of our 6 teams had qualified in earlier area heats. The competition was fierce, with well over 100 children in each race representing the 25-30 best schools in Leeds in each age and gender group (there are 240-ish state primary schools in Leeds, plus some independent schools). All the children did very well, and our Y4 boys team finished second in their race and therefore qualify to represent Leeds in the West Yorkshire Finals next month! What an achievement! The success we have had in these cross country competitions is testament to the KS2 focus we have had on running this year. Interestingly, we didn't have any top 20 finishers in any of the city finals: our success is built on a large number of good, strong runners without any outstanding individuals.
One Comment