Head teacher blog 8th December 2017
On Tuesday evening I had the pleasure of attending the annual Leeds School Music Association Christmas concert. As part of a crowd of 1500, I enjoyed a sumptuous performance by 350 Year 6 children in a 'Festival Choir' alongside the hugely impressive City of Leeds Youth Orchestra. Once again I felt very proud of our children and also of our city. Many thanks to Mrs Hawkhead and Mr Sharp who gave their time to support our children in rehearsals and the performance.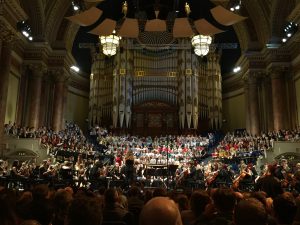 On Wednesday, we had a very successful 'Friends of Farfield' Christmas Fair and we raised nearly £2000 for their funds. This was a fantastic effort and I would like to thank all the volunteers, families and local businesses for their support.
I have barely seen Year 1 this week. On Monday they all went down to the church to learn about Christingle whilst on Wednesday and Thursday they were off to Thwaite Mills to learn about Christmas in Victorian times. I know they have more trips booked for the new year and it always seems to be an exciting week in those classes:  I wish I was a child in Y1!  On Tuesday and Thursday, we had Nativity performances from our 3, 4 and 5 year olds. Just getting all these children in the right place at the right time is an achievement and I thoroughly enjoyed the show. Well done everyone!