Third successful trip as part of Show Time club
On Saturday night, the 30 children in Show Time club had their third trip of the school year. Following ballet and a reading of War Horse last term, this time it was a classical concert at Leeds Town Hall playing music from the Harry Potter films. Performed by the world-renowned Halle Orchestra, the evening consisted of a suite of short pieces across all the films and different composers.  The orchestra were all dressed up in Harry Potter costumes: some played the whole evening with masks on!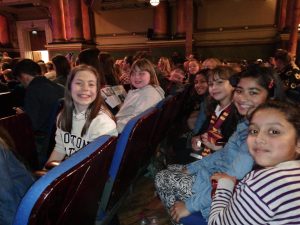 It is going to be a busy couple of weeks for this club: on Tuesday, they are attending a special schools' performance of the opera The Magic Flute and then a week later they are seeing Matilda! the Musical at Bradford Alhambra. Later in the year, they are going to see Annie and Horrible Histories on Stage.  The first four events that we have booked are quite challenging for children; the last three are very child-orientated and light.
Preparing for these events is tricky for the school as the members of the club are spread across four classes (and two year groups) so lesson time is difficult to arrange. Nevertheless, we do try to get together before a show and we do advise that children try to get familiar with a performance before we go. I have attached a very comprehensive and interesting education pack that has been produced by Opera North to accompany Tuesday's event.  Ideally, children would spend some time flicking through this with parents; there are lots of good links to You Tube extracts of different scenes. I found the pack very interesting as an adult too. The children could really do with knowing the synopsis of the plot and the main characters.
After that, I would strongly advise that children listen to songs from Matilda such as 'When I grow up', 'Naughty', 'Revolting children' etc. These are available on You Tube but maybe would be better on something like Spotify that doesn't show the scenery and acting.