Headteacher blog 8/10/21
I have really enjoyed this week. It is the start of the 'season' for school tours for prospective parents and the school has really shone. Every class visit has been positive and the children's engagement and good work have been clearly evident. Families are always impressed by what we have to offer their child. I also met with the leader of Go Wild Outdoors who is going to be working on site and he was so impressed with our grounds that he said they were the best he had ever seen!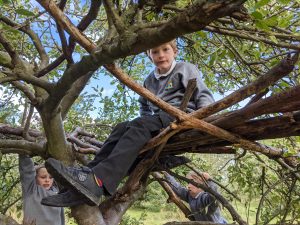 This week we have had the solar installers on-site in the Juniors and the arrays are beginning to become a reality. We are so excited to soon be able to generate large quantities of cheap green electricity from the sun (up to 130KWp). The generation from the solar will dwarf the contribution from the wind turbine, but the turbine can at least generate some at night.
The curriculum has been vibrant this week and has included a brilliant Greek Day in Y5 with children and staff all dressed up and enjoying a wide range of historical learning. Uniquely, Y5 could just pop out of their fire doors and find ripe bunches of grapes hanging from vine ready to pick. Plenty of 'wine' has been made this week, and farm club made apple juice too. Florence Nightingale also came to visit Y2; one girl's written recount repeatedly assured the reader that it clearly wasn't the real Florence Nightingale as she is dead!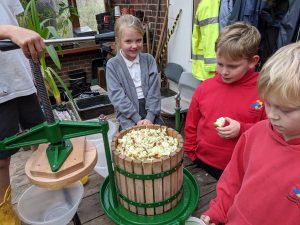 One Comment