Headteacher Blog 30/4/21
It's been a 'blooming marvellous' week at Farfield as the blossom dazzles and children have worked and played happily across the school. I have been doing lots of tours this week for parents of children that will be new to school in September 2021. Each set of parents that we have shown around seems to have been impressed by what we have to offer.
As it is spring, there is lots of planting going on. Whilst the greenhouse is full of 'potted-on' tomatoes, we have also been planting lots of new trees and swathes of wildflowers. I do think that both will take a long time to establish themselves – and may not look good for a year or two – but the new planting should further improve the environment and be good for nature and the school community. It's a big job though!
On Wednesday, we had the latest PTA meeting. The Easter Trail was a great success and there are lots of exciting events planned for the next six months. Look out for posters and information on the three new PTA noticeboards kindly (and brilliantly) constructed for us by Stephen Carr, Sophie's grandad. Don't they look great?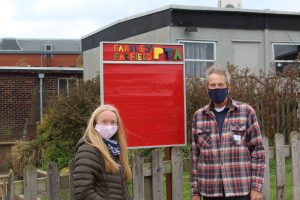 This week we have confirmed lots of exciting school trips for the rest of the school year including Rodley Nature Reserve, Murton Park, Skelton Grange and two residentials in the Yorkshire Dales. We are also starting some school clubs next week. Things are, slowly, getting back to normal.
Have a great bank holiday weekend: remember, no school on Monday!