Headteacher blog 24/9/2021
It has been an extraordinary week at school. Well over 5% of the school's children and a handful of staff have tested positive for Covid over the past seven days, with many more having symptoms and awaiting test results. This is a very difficult situation for the school and we sadly had to take the decision to close the class in which the large majority of cases was occurring. 73 children are absent or not allowed in school today: 16% of the school. Things have 'quietened down' a bit over the past couple of days and we look forward to welcoming those children back to school towards the end of next week. As far as I know, the children have typically been only mildly affected – lots have been attending 2La remote lessons – but there is always a concern that the virus can spread to more vulnerable children and adults in school or in the family and community. We are not the only school affected like this.
Next week is supposed to be when we restart lots of extracurricular activities: after-school clubs for older children and our first Show Time event on Thursday evening: 54 children and six staff off to The Alhambra in Bradford to see David Walliams' Gangsta Granny. I hope that we don't get another surge of Covid infections over the weekend that could put any of that into doubt. Next week also sees the resumption of peripatetic music lessons from Y2 upwards and group sessions in the Children's Centre.
Next week also sees the start of small group sessions with White Rose Maths – our new partners in the National Tutoring Programme (part of the govt's 'bounce back' strategy). 36 children from Y1-6 have been chosen for a ten week course consisting of two 45 minute sessions a week in a group of three. We are delighted to have partnered with WRM with whom we already work extensively. I expect this intensive programme to be of great help for these lucky students, and we would hope to replicate it next term too.
Finally, our Year 6 pupils all enjoyed a day at Yeadon Tarn earlier in the week. Linked to their text in English (Kensuke's Kingdom), the children wrote poetry, made dens and learned some of the basics of sailing out on the water: a fine start to their week of learning.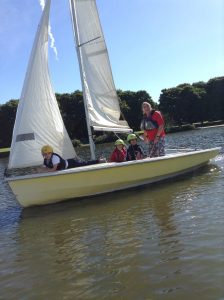 2 Comments