Headteacher blog 20th May 2022
It's been such a busy week at school: a week that has showcased many of the best features of our school.
On Monday, the day was spent setting our new budget and things were slightly more positive than we had expected. This gives us scope to do some more exciting and targeted work next academic year. Year 5 children spent half a day each at Otley Chevin practising mountain biking before residential and 16 children from Farm Club headed across to a farm beyond Huddersfield to buy 20 new chickens for our farm. (Many thanks to Annie in Y4 who did almost all the fund-raising for this.) In the evening we welcomed our new Reception families for September: a lovely, confident group of children that I am sure will flourish under our wonderful Foundation Stage team.
On Tuesday I spent much of the morning with the two Y1 classes as they learnt all about chickens as part of their science work. I look forward to seeing their 'All about Chickens' booklets soon.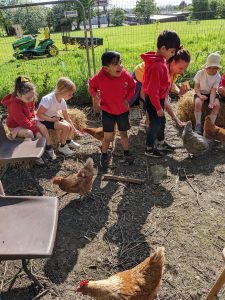 On Wednesday, a local authority advisor worked all day with our English leaders on a Reading 'Deep Dive': watching reading and phonics lessons; looking at policies and data; speaking with staff and children and hearing readers. We await the final written report, but the feedback was overwhelmingly positive with some good suggestions for further improvement. In the evening, over 50 children in the Show Time Club had a wonderful time at The Alhambra watching 'The Lion King'. I hear that the children were a credit to the school and the show was spectacular. It was a late night though…
On Friday, over 20 children were again in minibuses heading off to the John Charles Centre for a triathlon: swimming, running and cycling. I am pleased that this is a more challenging event than in previous years with a more significant swim to set things off. Tonight, our wonderful PTA are hosting their annual Quiz Night – a welcome opportunity to get together, have an enjoyable evening and raise more funds for school.
Next week, I am on residential all week in the Dales with Year 5: walks, a river study, history, caving, map reading and mountain biking awaits. Thank you to Mrs Hawkhead for her brilliant behind-the-scenes organisation of this DIY programme of activities and domestic arrangements – a military operation.