Headteacher blog 14/5/21
Eid Mubarak to all our Muslim families and colleagues! I hope that you have had a great time despite the current circumstances.
This week I have been thinking about money: specifically, the school budget. We spent Tuesday modelling plans for this financial year and beyond and the bottom-line figure was better than we feared. We should be able to maintain current provision without going into deficit, despite the huge costs and loss of income related to COVID. We are looking forward to reintroducing some of the most exciting bits of the wider school curriculum – trips, residentials, enjoying the arts, using local sports facilities etc – and we have set aside some money to invest in the Reception and Nursery outdoor space over the summer.
One of my favourite parts of the week was spent in 3E, looking at newspaper articles being written relating to the volcano explosion at Pompeii. The quality of lots of the writing was outstanding and I hope to see them published online soon. If those children are able to write so well at just 7 and 8 years old – with all the disruption of the last year – then the future is bright!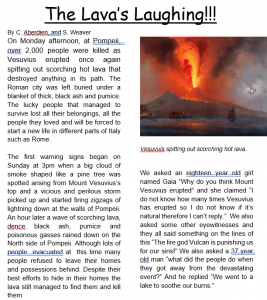 One Comment