Headteacher blog 05/11/21
Happy Diwali to all our families celebrating this week! I hope you have had a wonderful time.
Another sign of things getting back to more like normal are regular school trips going out again. This week 3E visited a synagogue in Roundhay as part of their religious education curriculum. The children were effusive in their praise of the trip when I spoke to them this morning; this sort of enrichment visit is an important element of our provision and I am delighted that we are 'out and about' again. During half term, over 50 children in Y5/6 joined us for a trip to see 'School of Rock' at the Alhambra and next week 36 children are attending an exciting new ballet at the Leeds Grand. Year 1 are off to Skipton Castle this month too.
This week I have been speaking with the older children about COP 26. The new solar panels look resplendent shining in the sun today, but sadly they are not actually generating anything yet as we await local grid sign-off in the case of the Juniors and some local infrastructure work in the case of the Infants. I am hopeful that the Juniors could get their switch-on next week and that would be a pleasing milestone during the COP 26 event. Educating about this important issue is a tricky balance: it's complicated and can be alarming. I do know of one child who clearly has some climate anxiety and so we need to tread carefully, but we also do need to make sure everyone is aware of the scientific realities, the urgency of the problems and the changes that we need to make. It is also important to remember that a greener future should be a great positive: cleaner air and water, healthier lifestyles and more biodiversity. With this in mind, Farm Club planted over 20 trees on Monday and have many more to plant over the coming months. We also have some more mature alder trees to plant later in the year, sponsored by some families and the PTA – these are earmarked for the path between the buildings and will help us to manage water in that area.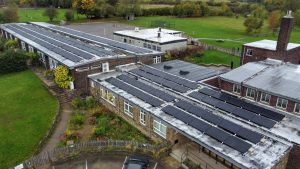 One Comment