6S residential at How Stean Gorge Day 1
It has been a fabulous first day and a fantastic group (so far).
The journey up was very misty: I had to put on windscreen wipers even though it wasn't raining and we needed headlights too. As a result, we couldn't see much at our first stop at the top of Coldstone Cut.
Once at How Stean we had lunch, moved into our tents and then got ready for the first activities: abseiling and gorge scrambling. The children got into their wetsuit, harness and helmet very well which gave us extra time in the gorge. The teachers led the way with the first abseils and everyone followed at a good pace. I couldn't get everyone in the video.
The gorge scrambling was exhilarating! Children helped each other and completed challenges. We got some video of most of the children but it was tricky! It was a great experience.  Best quote came from Kieron in the middle of the gorge scrambling: "I wish this would never end!"
This evening we have eaten well, had an evening guided walk and had free 'playtime'. Children are going to bed from 10.30 with 'torches out' from 11.15. We have a relative 'lie-in' tomorrow with breakfast at 8.30. Here's hoping we have a good night.
Morning update:  3 of the 4 tents slept well but one tent were chatting very late and then awake again very early. They will regret it later…
Here are the culprits!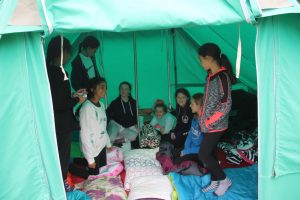 Here are some photos from earlier in the day:
23 Comments