Headteacher's blog 20th November 2015
On Tuesday I led a junior assembly that was loosely on the theme of 'Anti-Bullying Week' but also went on to discuss the awful events in Paris (and other cities such as Beirut and Ankara). I reassured the children in terms of the tiny level of support that these evil people have (also an opportunity for some maths), and celebrated the wonderful and rich diversity that we have in our school. We talked about a collective, resilient response to bullies – in a school or world context – and the need for broad solidarity when events seek to divide us. I told a couple of stories – one about a brief period of bullying that I experienced as a teenager, and one an incident of racist name-calling at Farfield about ten years ago – both of which were resolved with an element of collective response by witnesses. Some of the children may not have understood some of the metaphorical elements of my stories or messages, but they were very attentive and made good contributions. They clearly understood that these were grave issues being discussed. We finished with a prayer for the victims of Paris, and other terrorism around the world, and for community harmony.
On a more positive note, we have been preparing for a Parent Governor election and we are DELIGHTED with the quantity and quality of the many applicants. Look out for the election pack that is coming soon and please exercise your right to vote. It is a brilliant reflection on our parental community that so many people would like to join the governing body and have so much to offer.
I have been doing lots of tours of the school with prospective parents and they seem to be very impressed. I was little worried about a Friday afternoon tour – they might not have seen us at our best – but each classroom was still working hard and really engaged. Other tours have been impressed by the rich curriculum that we offer: on Wednesday, the families saw bread baking, African drumming, collage art and emergency first aid as part of the Y4 'PPA' afternoon. Every tour loves the space that we have at Farfield and are very impressed by the farm, although at this time of year I tend to show them pictures of the children gardening in the sunshine rather than traipsing through the mud, wind and rain!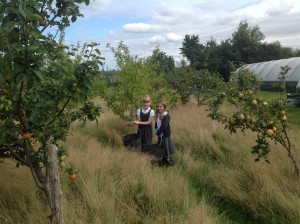 6 Comments