Headteacher blog 24th November 2017
I have been head teacher here a long time: 13 and a half years. I was reminded of this on a school tour earlier this week when a prospective parent that I was showing round announced that she had been in Y6 when I first came to the school in 2004. I had also felt it when some new governors were prompting  for some information and actions that I felt that I had done quite recently that turned out to have been a long time ago and well before their children joined the school. It is really useful, therefore, to have these 'fresh' governors on the governing body querying and challenging our work.  A really useful discussion was had at Pupil Support Sub Committee on Wednesday, challenging the school on what it had learnt from the extensive parents survey last summer and any actions forthcoming from this. Amongst other things, I was pleased to be able to inform governors that as a result of feedback we are investing in new lighting for the junior car park and route up to Fun Club; this work should be completed by Christmas.
Today, we have had a very unusual event at school: the official unveiling of a plaque and commemoration of the fact that there was a training airfield on our site during World War 1. This was brought to our attention by the Airfields of Britain Conservation Trust who also paid for the plaque. The children have been learning about WW1 and the fact that we have a link to the war has brought in some local historian interest and further expertise to add to the lessons.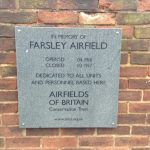 2 Comments