Head teacher blog March 9th 2018
What a ridiculous morning Thursday was. It was 'carmageddon' on the ring road and other main roads and by 8.15 I only had 3 class teachers in or anywhere near school and none in the infants. Cars were being turned back or abandoned. Buses were snarled up. Everyone, including the council, was caught out. Those able to walk or bike in were the most successful: Mr Cooke's photo even made the Yorkshire Evening Post as he rode up Town Street. For the first time in 14 years as head, I decided to close the school as I couldn't see how I could safely staff it.  It feels embarrassing now that we know most of the snow and ice disappeared as quickly as it came, but it was a really exceptional morning. I apologise for the inconvenience caused and for the relatively late change in decision – I certainly didn't expect to have to close!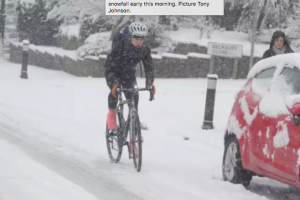 It is the second time that school had closed to children this week: on Monday we had a very successful statutory Training Day on maths. We commissioned top-class trainers to come to the school and it was a valuable and well-received day.