Head teacher blog April 21st 2017
It has been an impressive start to the new term. As I have toured the classrooms, I have been very impressed with the quiet, calm, sustained effort and learning that is clearly evident. Every year group is working hard, but this is particularly the case in Years 2 and 6 as they prepare for their SATs over the next few weeks. The expectations for children are very high – much higher than when we were at school – and their progress and attainment is impressive. Keira's recent spectacular improvement in reading particularly stands out.
This morning a group of Y2 children have gone off to the John Charles Centre for Sport for a morning of tag rugby activities. Coincidentally, this week also saw the international rugby league debut of Farfield old boy Harvey Spence, playing for England U16 against France. Harvey played well, kicking 5 out of 7 conversions, as England romped to victory. Children get a very wide range of sporting opportunities at Farfield and we hope and expect the children to be inspired to have a lifetime of physical activity – whether this is at the elite level of Harvey and Nile or the keen amateur level of the rest of us…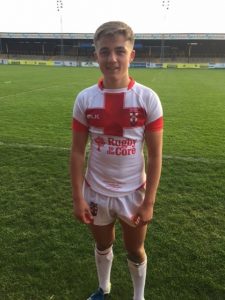 Earlier in the week, we welcomed our new parent governors – Rebecca Aberdein, Claire Brennan and Nimisha Barai – to their first meeting. We are lucky to have had so many great candidates in the recent election for governors and our new governors have all made a positive contribution already. I am also shortlisting for some new teachers for school from September; we have had 60 applicants, which is pleasing, and I wish all the Newly Qualified Teachers looking for their first jobs the best of luck. Hopefully, they will find their careers in education as rewarding as I have.