Head teacher blog 15th September 2017
We are trying hard to live up to our award of 'Healthy School of the Year 2017' and this week has been no exception. The KS2 PE curriculum had a successful kick off this week with new teacher Nick Little leading our 'Speed, Agility and Quickness' sessions and children engaging in a wide range of sporting activities on and off site. I had the pleasure of picking up a group of our Y3 children from Gym Magic: whilst we were there, a group of super-talented Leeds female gymnasts were training for some forthcoming British championships and were being filmed by the BBC. How fantastic for our 7 year olds to be doing PE right alongside elite athletes doing front flips along a beam! It is also worth putting on record my thanks to Mrs Hawkhead for her super administration of what is a very complex PE system, and to Mr Cooke for arranging such a great range of opportunities.
Our cooking and farming curricula began again this week too. KS2 children are making pasta sauce, with tomatoes and herbs harvested from the farm. For the first time, we are selling the sauce on stalls after school. I had some for my dinner and it was lovely! We are also harvesting lots of produce from the farm and  selling it alongside food from the 'Fuel for School' scheme. The stalls seemed busy and well-supported: thank you.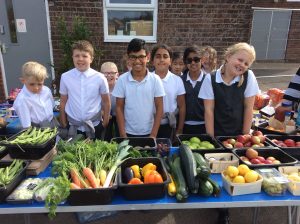 Other than in PE, we also had our first school trips of the year this week. Some Year 2 children have visited the bottom of the Aire valley to learn about the difference between a canal and a river, whilst both Y6 classes have had wonderful days on Yeadon Tarn learning about sailing and doing work to immerse themselves in the story Kensuke's Kingdom. This will have been a wonderful, enriching experience for the children and will be a springboard for some fantastic literacy work.