Headteacher blog 17th March 2017
We are fortunate at school to have a very talented and supportive parent community. This has been very evident this week as we have had five fantastic nominations for parent governors whereas some schools struggle to recruit. Each candidate looks really strong to me – I wish that we could find a role for all of them. We also have a strong PTA and they have three exciting events lined up: the Race Night next week (my family have got their tickets and horses and we are bringing a friend too!); a Quiz Night in May and the amazing Campover on the 1st July. As schools are having to make significant cuts, the support of the PTA will become even more important to help fund those things that make our school special – please do get involved, attend an event and give your support. Finally, the support and talents of our parent base was shown again today as two parents came in to Year 2 this morning to share their knowledge and experiences of Africa with the children. This follows similar enriching visits by a parent in Y1 recently: many thanks to each of them.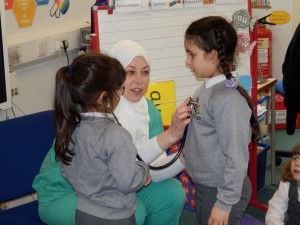 This afternoon, parents should receive a brief mid year report prior to next week's Parents' Evenings. I would like to thank the staff for taking the time to complete this additional report at this time. Along with this report, we have included some assessment tracking for each child to show how your child is attaining, where they have made progress and where we might target support in the rest of the year. We hope that these summaries are a useful addition to the report. Your child will be progressing all the time – and it is impossible to keep every single assessment area wholly up to date – so your child's attainment might have moved on even between the printing of the assessment and you receiving it!