Headteacher blog December 13th 2019
It was great to see so many people supporting our PTA Christmas Fair on Wednesday and the event, along with the raffle, raised about £1700 for their funds. Many, many thanks to all the volunteers that made it happen on the day and in the preparations; these things don't just happen miraculously at 3.30!  Thank you to our families that were generous in their support and to the businesses that gave us such great prizes for the raffle.
This week we are seeing the benefits of having such a fantastic PTA as they have funded a new audio system in the infants, new wireless mics and some stage lighting in the juniors.  We have already had two lovely Nativity performances from Foundation Stage and, next week, we have a KS1 performance and a KS2 pantomime.  Yesterday Y3 went to see a pantomime at City Varieties and next week fifty children from Y5/6 will go to the ballet at Leeds Grand Theatre and our Reception children will be meeting Santa at Abbey House Museum.  I wonder if this elf, last seen in the KS2 hall, will be seen again?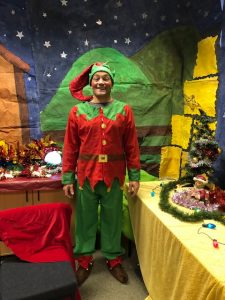 One Comment