Fundraising
Despite restrictions in place due to COVID, the PTA have continued to organise events to raise funds for school.  Since September 2020, the PTA have raised over £10,000!  Some of the recent events are listed below.
| | |
| --- | --- |
| Event | Amount raised |
| Santa letters 2020 | £250.00 |
| Christmas jumper day | £247.00 |
| Smarties Tubes | £1036.00 |
| Monthly cash prize draw | £371.00 |
| Easter Egg hunt | £300.00 |
| Golden ticket | £210.00 |
| Sponsored walk | £5000.00 |
| Lego keyrings | £235.00 |
| Scarecrow festival | £2279.00 |
| Donations page 2020 | £998.00 |
October 2018
The annual quiz night took place on Friday 9th October.  Well done to the infant staff team who won best dressed table, pass the pound round and the overall quiz itself!  The event raised around £450 and was a fun evening for all involved.
September 2018
The new school minibus – part funded by the PTA has arrived.  Thanks to Carpet Corner for their sponsorship of the bus.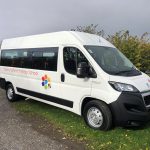 June 2018
The PTA 2018 camp-over was a magnificent event and has raised £3000!  Thank you to everyone that came and supported the event.  We are already looking forward to next year!
December 2017
The fair and the raffle raised a fantastic £1850 for PTA funds: the best receipts for a Christmas Fair for many years. Thank you!  Thank you to everyone involved.   One of the projects we are working on is development of the school grounds and 'Friends of Farfield' funds will support this.
June 2016
The school camp-over resulted in a profit for the PTA of just over £2500, including a donation of £60 to the Little Princess Trust.
Thank you to everyone who supported this wonderful event.
Previous fundraising has enabled us to recently purchase two defibrilators – one for each building – and these will be positioned in each foyer area. Hopefully, we will never need to use them but if we do, they could save a life.
December 2016
The PTA Christmas disco was held on Tuesday 13th December raising over £300.   Many thanks to the staff and parents who helped set up and clear up afterwards. The Christmas Fair raised over £1000.